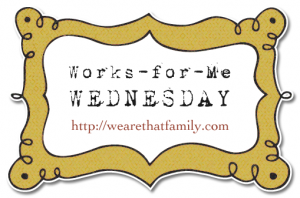 The dynamics of managing a large family is all encompassing...the more people living in a home, the more there is to manage, right? Well, one summer after loading a full dishwasher of CUPS (are you kidding), something had to change. I mean really...how many cups do you need in a day?
Here's what works for us:
Each morning the children select their cup. We label it with a strip of masking tape and write their name on it. For the sippy cups we try to write a date on it, too. (How many of you have FOUND a sippy cup with milk or juice remnants in it after 'hiding' for a few days? Not pretty, although it could make for a great science experiment!)
A simple label with initial or name and date to help keep cup consumption under control...Works for Me!
Wallah! Now, we have severely decreased our cup consumption, thus saving TIME and RESOURCES (electricity, water and chemicals needed for washing all those cups).
Hope that helps some mom of many out there...
Happy Cup Reducing ~
P.S. I hope you'll pop over to enter
"A Thankful Heart" giveaway
I'm hosting...see what the Lord has placed on my heart, join in the challenge and enter the giveaway.
This post is linked up to: